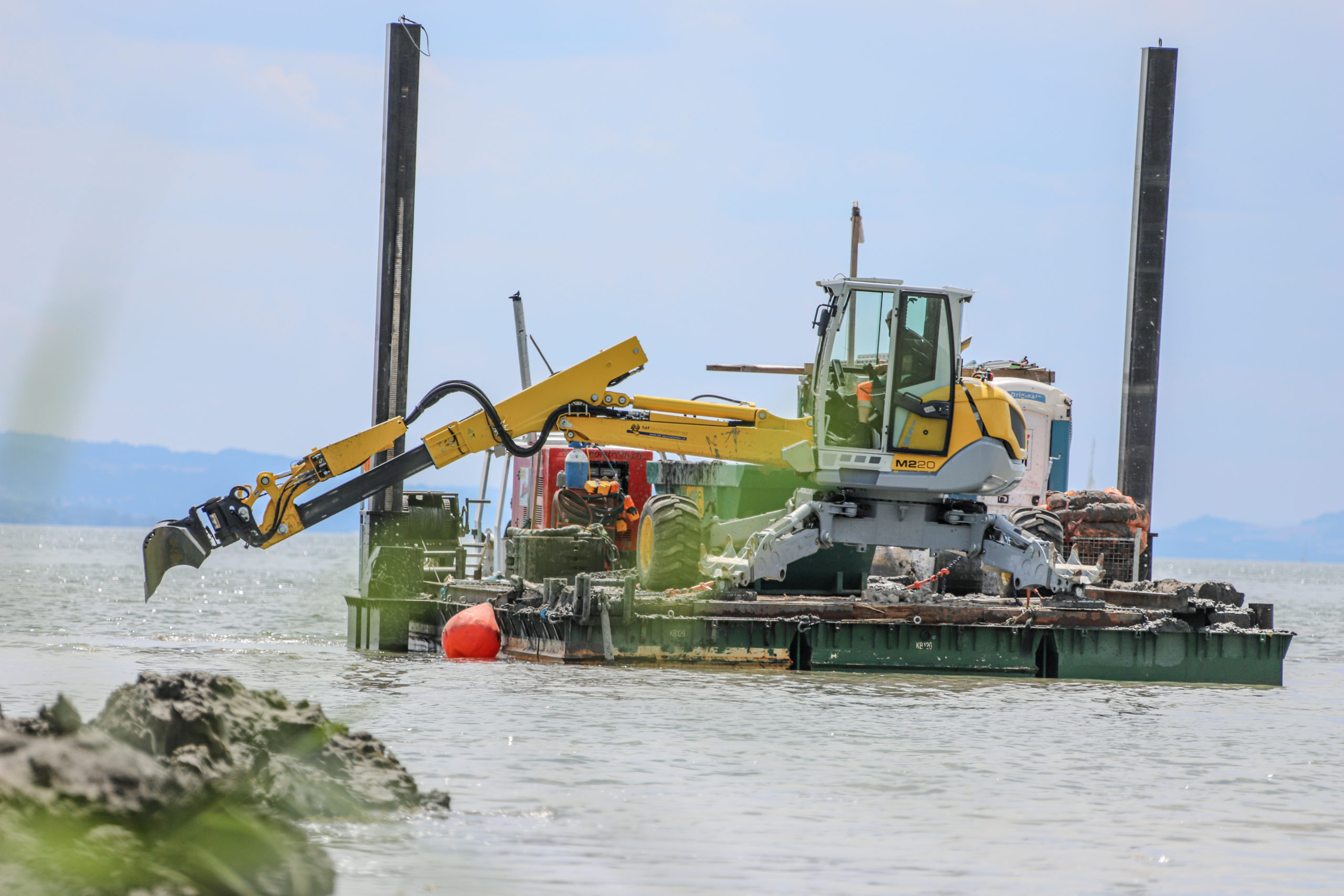 Menzi Muck walking excavator
High-tech all-rounder for rough terrain
State-of-the-art technology with lots of know-how from Switzerland. The walking excavator Menzi Muck M220 owes its special skills to its clever high-tech chassis and the patented excavator arm. Various hydraulics cylinders allow the all-rounder to adjust its wheels and feet to any terrain.
In expert circles, the Menzi Muck is therefore also called the spider excavator. While on a crawling excavator the tilting edge is fixed, it can be adjusted on the Menzi Muck by means of the flexible wheel and claw carriers.
This way, it is possible to reach lifting and tear forces that cannot even be reached at all with an ordinary excavator. In addition, the two-step traction drive with self-regulated parallel steering make it more agile and powerful than its competitors. The excavator also has a road setup with Swiss motor vehicle inspection acceptance and emission test. Thus, it is also ready for driving on roads.
As a particularity, the Menzi Muck excavator is also equipped with the NOX TR 11 tilt rotator with SWH020 quick release. The NOX tilt rotator is one of the most innovative tools for the excavator. Using the NOX, you can quite generally complete a lot of jobs more efficiently and faster because you can work with precision by virtue of the additional movement options of the add-on devices on the excavator tip, without having to move the excavator all the time when doing so, for example, when positioning stones for building a natural stone wall. The advantages of the NOX are the combination of 360° endless rotation plus the slew drive of up to 2x 55° plus quick release.
The Menzi Muck M220 with its 7.1 tonnes also has a clearly higher capacity than comparable crawl excavators and it can be used on nearly any terrain, in the water, and on our pontoon. Because we work not only on but also in the water, protecting our environment it is a concern close to our hearts. For this reason, we exclusively use biologically degradable hydraulic oil (Panolin).